We provide Authorized Allen Bradley VFD, Sales, Maintenance and Field Service on Allen Bradley VFD's, nationwide.
We are Certified Allen Bradley VFD Repair Technicians.
Quality Repairs: Our Allen Bradley VFD technicians and engineers are fully trained to use the latest technology to test and repair your Allen Bradley VFD and repair your parts.
We have the capability to repair your Allen Bradley VFD down to component level.
We have the capability to test Allen Bradley VFD's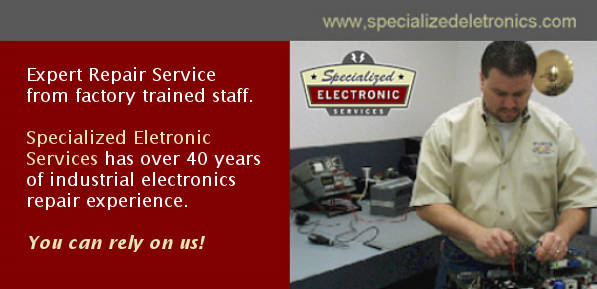 Specialized Electronic Services offers a 6 month warranty from the date of installation on most repaired items.
We are Authorized to do Warranty Service and Repair for Allen Bradley VFD's. Specialized is also an Authorized Warranty Center for many other manufacturers.
Allen Bradley VFD Training:
We have many Years of Experience working on industrial equipment and have done extensive training on Allen Bradley equipment. We offer technical support over the phone as well, for items we have sold or repaired for our customers.
On-Site Field Service Capabilities:
We provide 24 hour on-call field services, including Holidays. A qualified SES VFD Technician will come to your facility to trouble-shoot problems, whether they are in your start-up, existing system, or in an individual unit.
If your Allen Bradley VFD is down our technicians and engineers will trouble shoot your system and figure out what is wrong and get you back up and running as fast as possible.
We will also help you develop and maintain a preventive maintenance program, and show you where and how you can upgrade existing equipment.
Fast Turnaround Time:
Specialized Electronic Services completes most repairs in 8-10 business days; faster than industry standards.
Rush services are also available for an additional fee. In our repair facility, not only can we provide you some of the fastest turnaround times at prices below most of our competitors. A "rush service" is also available.
For a nominal fee we can expedite your repair to sometimes within 24 hours.
Since we stock a large inventory of parts some repairs can be accomplished in as little as 24 Hours.
If parts need to be ordered in, the repair can be done in two to three days.
Occasionally, in the case of older obsolete parts, a rush repair is not feasible.
We will advise you when this is the case, and can offer repair as soon as the parts are expedited in.
Be sure to mention if you need our rush service in your correspondence with us.
Authorized Service and Warranty Center:
Specialized Electronic Services is an Authorized Service and Warranty Center for Allen Bradley VFD.
Allen Bradley VFD
Timely Quotations:
We offer quotes on most items received for repair within 24 hours. And there is no evaluation fee for the quote. Call us today at 1-800-681-7374 for quotes.
Competitive Rates:
Specialized Electronic Services rates are more than competitive, in fact they are usually below industry standards. In addition, the repair costs are usually less than half the cost of replacement. In some cases, the cost of repair exceeds the reasonable cost of replacing the equipment. In these cases we'll let you know and give you the option of repair or replacement.
Repaired Items Shipped:
Specialized Electronic Services ships repaired items back to you the same day the repair is completed. Repaired items are protected during shipping using Anti-Static shrink wrap bags, Anti-Static bubble wrap, and Anti-Static foam peanuts inside heavy corrugated boxes, and there are no freight charges for repaired items shipped using UPS ground service.
At Specialized Electronic Services, we have Trained VFD Technicians available for your industrial electronic needs.
We are factory authorized representatives for many leading brands in the industrial field. We also repair many other VFD drives.
Specialized Electronic Services an Authorized Allen Bradley VFD Service and Certified Technician Repair Center. See https://allenbradleyvfd.com/
CALL NOW TOLL FREE: 1-800-681-7374