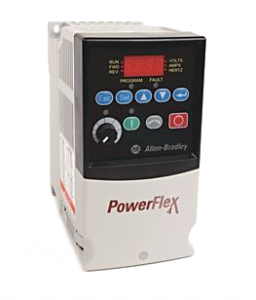 Allen Bradley PowerFlex 4 22A-D4P0H204
380-480V VFD, Three-Phase Drives (50/60 Hz, No Filter) 1.5 kW, 2 Hp, 4 A, IP20 Plate Drive.
The Allen Bradley PowerFlex 4 was designed in order to meet global OEM and end-user demands for simplicity, space savings, and cost efficiency, this drive provides intuitive features such as an integral keypad with local potentiometer and control keys that are active right out of the box. These drives provide users with powerful motor speed control in a compact, space saving design, the Allen-Bradley PowerFlex 4 VFD drives are the smallest and most cost-effective members of the PowerFlex family of drives.
allen bradley vfd, allen bradley drives, allen bradley drive repair, allen bradley repair
CALL NOW TOLL FREE: 1-800-681-7374