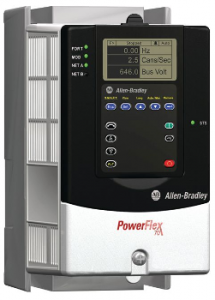 Allen Bradley PowerFlex 70 20AE041A0AYNANC0
The PowerFlex70, 600 VAC, 3 PH, 41 Amps, 40 HP Normal Duty, 30 HP Heavy Duty,Panel Mount – IP20 / NEMA Type 1, with conformal coating, No HIM (Blank Plate), Brake IGBT Installed, Without Drive Mounted Brake Resistor, Second Environment Filter per CE EMC directive (89/336/EEC), No Communication Module, Enhanced Control , No Feedback, VFD Drive.
Allen Bradley PowerFlex 70 VFD Drives are compact modules of power, control, and operator interface designed to meet demands for space, simplicity, and reliability. These VFD drives are easy to configure. Our drives provide additional control, power, and enclosure options in standardized designs. The PowerFlex 70 Fan and Pump packaged drive is a cost-effective solution for speed control in variable torque fan and pump applications.
allen bradley powerflex 70, allen bradley repair
CALL NOW TOLL FREE: 1-800-681-7374